Nordic Launch for ROG Zephyrus S (GX531) – The world's thinnest gaming laptop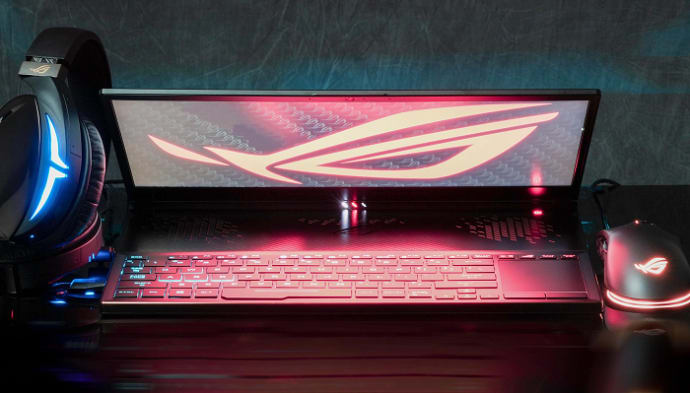 he world's thinnest gaming laptop powered by latest Intel Core i7-8750H CPU and NVIDIA GeForce GTX 1070 Max-Q GPU, with a 144Hz display and Windows 10 Pro
KEY POINTS
World's slimmest gaming laptop: 14.95~15.75mm thin with Intel Core i7-8750H CPU and NVIDIA GeForce GTX 1070 Max-Q or GTX 1060 GPU
Powerful visuals on a super-narrow-bezel display: 144Hz refresh rate and 3ms response time enables super-smooth gaming with blur-free graphics.
Patented ROG Active Aerodynamic System (AAS): Optimum cooling with innovative venting and 83-blade fans for peak performance in ultraslim design
Price: NOK/SEK/DKK/EUR  26990:-SEK 24990NOK 18990DKK 2549EUR

| | |
| --- | --- |
| Specifications:  | |
| Display | 15.6″, FullHD 144Hz@3ms |
| Graphics Card:  | NVIDIA GTX 1060(6G GDDR5) |
| Storage | 512GB PCIE G3X4 M.2 SSD |
| CPU | Intel 6-Core Core i i7-8750H (2,2-4,1GHz) |
| Memory | 16 GB DDR4 |
| WiFi | 2×2 802.11ac Gigabit WiFi |

All-metal chassis combines design with function
Each lid is meticulously machined from a solid block of aluminum. This precise CNC-milling process takes five tooling stages and nearly 72 minutes to carve out all the intricate details that ensure a perfect fit, creating a lid that is remarkably rigid, yet slim. It also helps the Zephyrus S casing remain durable: engineering samples have already met military-grade durability standards for jolts and vibration.
Super-narrow-bezel display
Super-narrow bezels allow the 15.6-inch display to be squeezed into a 14.2-inch chassis. This reduces the entire footprint, allowing the Zephyrus S to fit into tighter spaces than its predecessor. In addition, the slimmer bezels create a more immersive gaming experience.
Since the original Zephyrus, ASUS has worked closely with panel maker AUO to ensure ROG laptops have the very best displays for gaming. The 120Hz panel on the initial version doubled the refresh rate of conventional displays, while Zephyrus S pushes the refresh rate to 144Hz, and reduces blurring and ghosting by lowering the response time to 3ms.
Built for more than just speed, the IPS-type AHVA panel also has excellent image quality. It covers 100% of the sRGB color gamut, ensuring richness of color, and wide viewing angles keep the picture from washing out when viewed in split screen.
Proprietary cooling to ensure optimal performance
Cooling the critical components that comprise Zephyrus S is a difficult engineering feat due to the ultrathin design, but it's imperative to ensure peak performance. Because of this, ASUS and ROG thermal engineers developed the innovative Active Aerodynamic System (AAS) for the original Zephyrus. When the lid of the laptop is lifted, a special vent opens underneath the chassis to let the laptop draw in more cool air. Similarly, the AAS intake measures 5mm on Zephyrus S, stretching across the entire back of the body to improve airflow by 22% compared to traditional designs. Additional airflow comes in from through the keyboard, and the keyboard's forward layout makes more room for additional cooling throughout the system.
Within the chassis, the Zephyrus S contains five heat pipes that pull heat away from the CPU and GPU, and also the VRM circuitry that feeds them power. The CPU and GPU connect to both shared and dedicated heatsinks to ensure efficient cooling for any workload, and the power components stay under 80°C to improve long-term reliability. Thermal energy is channeled along the pipes to four heatsinks and exhaust vents at the rear corners, twice as many as in the first Zephyrus.
Keeping heatsinks free of dust and debris is key to preserving cooling performance, which is why the engineering team added self-cleaning fans to eject particles from the system through anti-dust tunnels. This special feature prevents accumulation on the fins to ensure consistent cooling and improve long-term stability.
With 83 blades each, the dual 12V AeroAccelerator fans have 17% more blades than in the original Zephyrus. Airflow is also improved by the fan's shaped aluminum shroud, which has curved edges and raised guides to help channel more air into the blades. Rotational speeds are determined by an intelligent algorithm tied to three profiles. Keyboard shortcuts allow users to switch between Overboost mode for maximum gaming performance, Silent mode for lower acoustics, and Balanced mode that maintains a level between the two.
ASUS has over 20 years of experience in the technology industry and is a leading company in the new digital era. ASUS is the world's third largest laptops manufacturer and nowadays, since the beginning of 2016, it is the largest computer manufacturer in the consumer market across the Nordic region.
Currently, ASUS has a global staff of more than 17,000 employees, including 83 employees in the Nordic region.